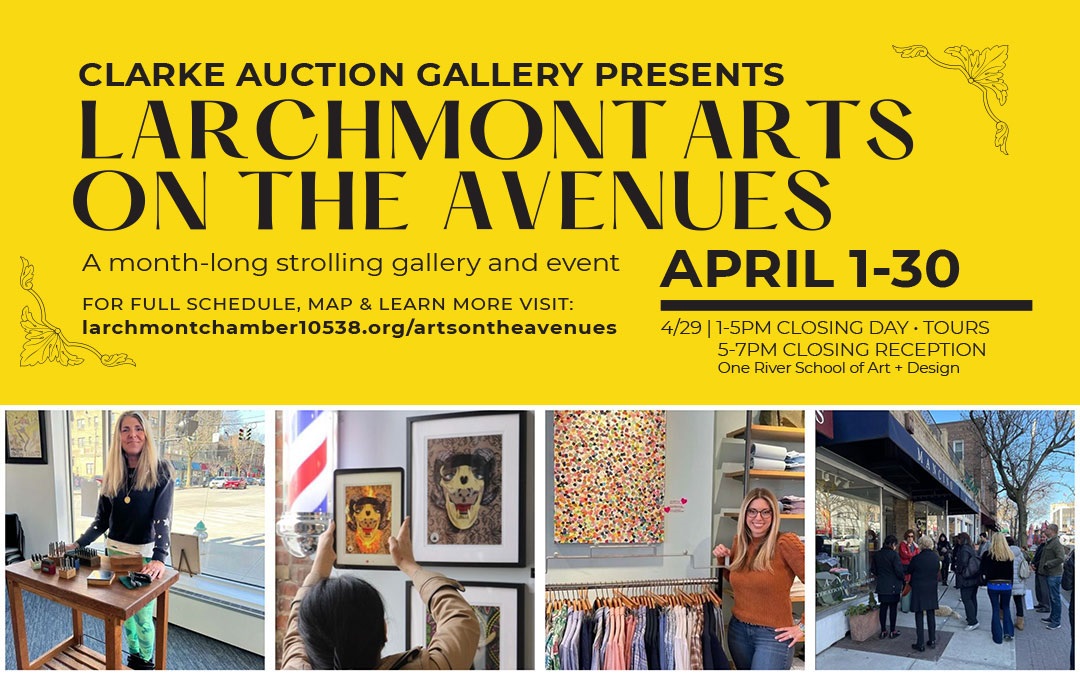 The Larchmont Chamber of Commerce is once again hosting
Arts on the Avenues, a month-long exhibition
featuring Westchester artists at local Larchmont businesses.
This collaboration will create a strolling gallery
along our two business districts for all to enjoy.
Free to attend stroll • Family Friendly • Rain or Shine
Featuring:
Over 25 business and artist pairings
Guided Walking Tours
Interactive Art Activities & Workshops
Community Art Project
Artist & Curator Talks
"The Business of Art" Panel Discussion
"Meet The Artist" Events
Month-long Scavenger Hunt
Closing Reception with Raffle & Silent Auction
Exhibiting artwork:
Artists will be submitting works in any of the following media:
Painting
Drawing
Photography
Mixed Media
Sculpture
Business & Artist Pairings
Check out some of our 2023 videos:
THURSDAY, APRIL 20 | 6:30-9:00 PM
THE BUSINESS OF ART 
Julia B. Fee Sotheby's International Realty - Larchmont Brokerage, 1910 Palmer Ave, Larchmont, NY 10538
Panel discussion at 7pm: 
Each expert gives their perspective on how to navigate making money in creative businesses, insightful tips, and will take questions from the audience.
Liz Woods
Learning with Liz Woods
Brooke Molinaroli
BAM Art Advisory
Naomi Vladeck
Creativity Matters Coaching
Moderated by 
Laura Saravia
LOUDA Creative Group
SATURDAY, APRIL 22 | 10AM-2PM
Collage workshop with Christine S. Aaron
Palmer Art Custom Framing, 1947 Palmer Ave. 
SATURDAY, APRIL 29 | Starting at 2:30PM followed by reception 5-7PM
Drawing with Lions
One River School of Art + Design
Pop-in and draw from 2024 Theme "Dare to Dream" where One River instructors will guide participants in coming up with their own concepts. An exhibit of the Peace Poster Contest 2023 winners display framed by Circle 7 Framing.
New Times:
1:00 PM  Palmer Ave Guided Tour, Pocket Park
3:00 PM  Boston Post Road Guided Tour, Addison Park
12:30-3:00 PM  Coloring En Plein Air, Pocket Park
2:30-4:00PM  Drawing with the Lions,  One River School of Art + Design
5:00-7:00PM  Reception & Networking Silent Auction & Raffle, One River School of Art + Design
Auction items include: Jewelry from Palmer Jewelers, Art & other quality items.

Raffle items include gift certificates from various Chamber members including: onsèm and ProClinix Sports  
THANK YOU TO OUR SPONSORS: