Larchmont 2022 Best of Westchester Winners!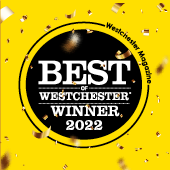 2022 BEST OF WESTCHESTER LOCAL WINNERS!
DeCicco's - Best Italian Bakery
DeCicco's - Best Beer Selection
DeCicco's - Best Caterer
Underground Vinyl - Best New Record Shop
Lauren Tormenta Design –  Best On Trend Woman's Apparel
Taaru Majeure – Best Global Gift Boutique
Palmer Art – Best Frame Shop
KAM Design – Best Interior Designer
Zavaglia Associates – Best Landscape Design
The Flower Bar – Best Florist
Longford's – Best Ice Cream
ProClinix Sports Physical Therapy & Chiropractic, PLLC – Best Physical Therapy & Best Chiropractic Center
Congratulations to the winners!